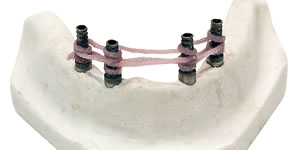 NEW: CST® TEMP - a FiBER FORCE® product
Synca announces the immediate availability of CST® TEMP. This fiber reinforcement offers a significant increase in the fracture and fatigue resistance of phase 1 transitional dentures. CST® TEMP adds only 5-10 minutes to the fabrication time of a new or conversion denture and is designed to be so cost effective that it will be inserted in all cases. It will save dentists, labs and especially patients, the significant inconvenience and hassles of having to repair fragile transitional dentures.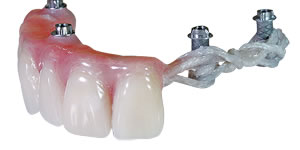 A review on the CST® system
"I was very impressed with the Fiber Force CST material made by Synca. I used it on 3 screwed retained hybrid cases and the frameworks were very strong after curing. The instructional video is very helpful and I was able to make the frames without any issues!"

Jay Bissette, C.D.T., Raleigh, North Carolina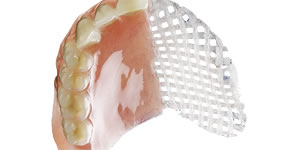 A review on the FiBER FORCE® system
"We are using Fiber Force for complete and partial dentures. The mesh is almost undetectable within the acrylic and it is really appreciated by patients. These reinforcements add significant strength and are really easy to make."

Guy Guillemette, Dental Technician, Thetford Denta, Thetford Mines, QC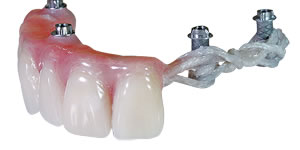 A review on the CST® system
"I have been using CST implant frameworks for a little over 2 years. I find it to be a fantastic product. Patients are delighted to have their screwed implant dentures the same day as the surgery. They are surprised with the comfort and lack of sensitivity. They are under the impression that they have new real solid teeth in their mouths. From my perspective, the process is simple and quick. The denture is completed on the same day as the surgery. No tissue conditioner is required; there are no adjustments for pain or ulcers. I consider CST framework technology has advanced implant solutions for the well-being of both patients and treatment providers."

Denis Beauregard d.d., Ste-Hyacinthe, QC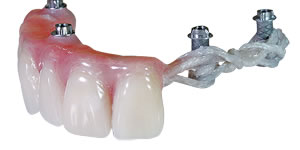 A review on the CST® system
"The use of a fiber bar has been a revelation for me. Using CST structures in my implant cases has allowed me to fix a hybrid implant case in the mouth within 4 hours of surgery. The prosthesis is final and not temporary. My patients can have dinner at night with teeth in their mouth and no pain. There are no adjustments with liners and my patients are very happy. For immediate load cases, CST has made it easier - from case acceptance - to workflow and lab time. I recommend CST."

Éric Falardeau, d.d., Sorel-Tracy, QC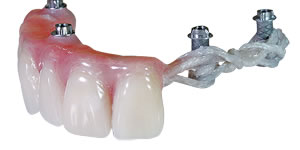 A review on the CST® system
"CST allows us to offer patients an immediate full arch implant prosthesis. At some future time, some patients may have to move to a titanium solution. But with actual clinical data, we expect fiber reinforcement to last for the duration of the denture."

Dr Luc Chaussé, Beloeil, QC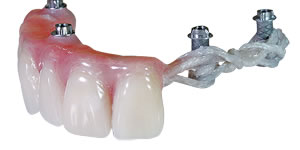 A review on the CST® system
"CST® is a high quality product offering an interesting alternative for screw-retained hybrids over 4 or 6 implants. Being highly resistant, the hybrid ropes give me the possibility of creating a framework within minutes and with lower costs. That means that the patient can have the implant surgery early in the morning and have his screw-retained denture at the end of the day."

Jonathan Beauregard T.d., BR Dental Lab, Beloeil, QC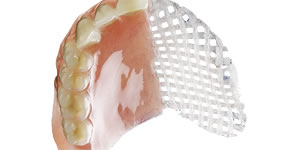 Synca creates new communication brochure for Fiber Solutions!
Triple your success with FiBER FORCE® and CST®

This new easy-to-read brochure provides an overview of the most popular techniques that have gained acceptance through clinical success over the last few years. It is an ideal tool for laboratories to send to their dental office clients and vice-versa. Request FREE copies with your orders.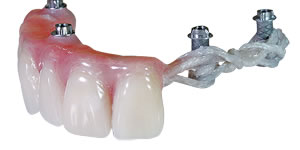 CST® Study Results:
"Study shows that CST® fiber frameworks have 85% of the strength of titanium bars in the weakest part of implant supported fixed hybrid dentures."

CST® offers dental professionals an attractive alternative to milled or cast metallic bars when making fixed hybrid dentures in ALL ON type cases. It is generally accepted that the section of any implant supported fixed hybrid denture that is the weakest, and therefore the most susceptible to damage, is the distal extension. In a study completed by Drs. J. Goldberg, G. Ronaghi, S. Jivraj. J. Park and W. Chee, simulated fixed hybrid dentures made with a CST® framework demonstrated a fracture resistance that was 85% of that seen with a milled titanium bar in the area of the distal extension of 10mm.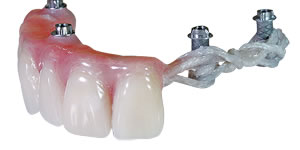 Making durable long-term implant supported provisional dentures using CST®
Dr. Saj Jivraj of the Anacapa Dental Art Institute shares his technique and rational for using CST® to make the transitional denture in immediate-load full mouth rehabilitation cases last longer and break less.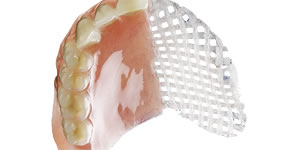 85% of evaluators say "YES" to FiBER FORCE!
85% of CR Foundation* evaluators recommended Fiber Force mesh for strengthening dentures. Contact us for a reprint of the report. If you would like free copies to send to your customers please contact us at 1-800-667-9622.

*An independent, non-profit, dental education and product testing foundation, Clinicians Report December 2013. The full report is available from Synca.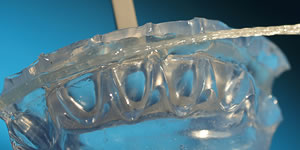 Stop the Horror of the single-tooth flipper!
Until now single-tooth flippers may have been the only relatively accessible way to provide patient's with a space maintainer in cases were bone and/or tissue healing is occurring, but the fact is that patient's don't like them. They are often ill-fitting and uncomfortable, and because they're removable patients don't wear them regularly or at all, resulting in a compromised case due to tooth shifting.

The Fast Splint Matrix® system uses an innovative and easy technique to quickly fabricate a fiber reinforced single tooth space maintainer/flipper (either on a model or directly in-mouth) that is bonded in place, resulting in a comfortable solution for the patient and one that comes out when the dentists decides rather than the patient.